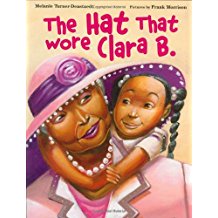 THE HAT THAT WORE CLARA B.
Frank Morrison Studio
Regular price $15.00 Sale
From School Library Journal
Kindergarten-Grade 3—It is Mother's Sunday, "when the older ladies dressed in crisp white suits and wore clean white gloves…and hats. Big, bold, beautifully colored hats." Clara B. is in a rush to sit into the pew just behind the lady with the best one—her grandmother. When complimented on her broad-brimmed pink chapeau, the woman responds, "Honey, I'm not wearing this hat. The hat is wearing me!" Clara is not allowed to touch it, but she is determined to try it on. Later, when her grandmother dozes off in an armchair, Clara finally gets her hands on the hat. In the bedroom, she stumbles and accidentally crushes it. Then she tries to repair it, snipping and gluing with "supplies from Grandma's craft drawer." She returns it to the box with a note of apology. The next Mother's Sunday, Clara is apprehensive, but then she finds a pink hatbox labeled "Child's Medium" on her pew seat. In many African-American churches, it is customary for women to wear elegant, stylish, often large, elaborate hats, especially on Mother's Sunday. Turner-Denstaedt provides a brief explanation of this tradition. Morrison's large and expressive paintings are suffused with warmth and reflect the text beautifully. This is a wonderful family story that celebrates the bond between generations.—Mary N. Oluonye, Shaker Heights Public Library, OH
Frequently ask questions
Shipping within 15 days to US Addresses only
All sales are final, no returns accepted.