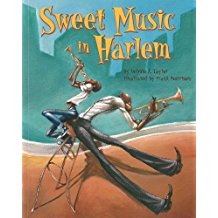 SWEET MUSIC IN HARLEM
Frank Morrison Studio
Regular price $15.00 Sale
From School Library Journal
Kindergarten-Grade 3–When a famous–but forgetful–Harlem jazz musician finds out he's having his picture taken for a magazine, he sends his nephew on a wild chase through the neighborhood looking for his hat. C. J. hurries from the barbershop to the diner to the jazz club, but at each location he finds, instead of Uncle Click's beret, some other article that the man has left behind. The boy also returns with a crowd of people who are all anxious to be in the picture, too. When the photographer arrives, he finds a colorful group of jazz greats assembled on the brownstone steps. That night, Uncle Click presents C. J. with an early birthday present, a brand new clarinet that puts a sparkle in the aspiring young musician's eye, with the missing hat inside the box. This dazzling tale is filled with energy, rhythm, and style from its attention-grabbing cover to its satisfying ending. An author's note explains that an actual photograph of 57 jazz musicians taken in 1958 inspired the story; the photo is reproduced and all of the artists in it are identified. The acrylic illustrations make the text come alive. Elongated figures stretch, stride, and dance along pages filled with colorful scenes of Harlem. The characters' passion for jazz is echoed on their expressive faces and in their graceful postures, and Uncle Click's affection for his nephew shines through. A wonderful ode to the power of music and of family love.–Jane Marino, Bronxville Public Library, NY
Copyright © Reed Business Information, a division of Reed Elsevier Inc. All rights reserved. --This text refers to an out of print or unavailable edition of this title.
Frequently ask questions
Shipping within 15 days to US Addresses only
All sales are final, no returns accepted.