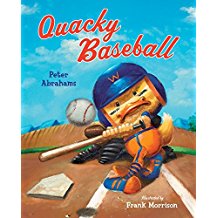 QUACKY BASEBALL
Frank Morrison Studio
Regular price $15.00 Sale
From School Library Journal
PreS-K-Thumby, the smallest duckling on the team, is starting in his first opening-day baseball game for the Webbies. The story begins at the top of the ninth, with the opposing team at bat. The artwork is stronger than the text. Morrison provides painterly renditions of the action and draws some scenes with a unique perspective to show how it feels to be a rookie at the plate waiting for the pitch or a novice fielder hoping to catch a ball to make the third out. Readers will sense Thumby's anxiety as he is often portrayed with his thumb in his mouth. Humorous batting tips are sprinkled throughout. New players will enjoy the traditional happy ending with the bons mots on the final page.-Blair Christolon, Prince William Public Library System, Manassas, VA (c) Copyright 2010. Library Journals LLC, a wholly owned subsidiary of Media Source, Inc. No redistribution permitted.
Frequently ask questions
Shipping within 15 days to US Addresses only
All sales are final, no returns accepted.