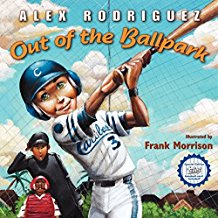 OUT OF THE BALL PARK
Frank Morrison Studio
Regular price $15.00 Sale
Writing without (credited) assistance, the Yankees' renowned third baseman looks back to his childhood for this inspirational but not heavily moralistic tale. Bouncing back from a playoff game that his team wins despite his own poor performance, young Alex works hard on his skills all week, aces a math test, and then goes on to win the championship game with a grand slam in the bottom of the final inning. Morrison illustrates with paintings of big-headed, sinuous-limbed figures in high-energy poses, and an album of engaging family photos is appended. A better-than-average celebrity product, this promotes both directly and indirectly the customary possibility of achieving dreams through relentless effort and family support. John Peters
Copyright © American Library Association. All rights reserved --This text refers to an out of print or unavailable edition of this title.
Frequently ask questions
Shipping within 15 days to US Addresses only
All sales are final, no returns accepted.