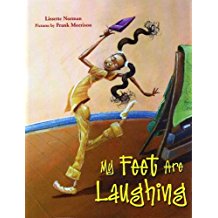 MY FEET ARE LAUGHING
Frank Morrison Studio
Regular price $15.00 Sale
From School Library Journal
Grade 1-6 When her grandmother goes to live in heaven, Sadie, a young Dominican American, and her mother and sister move into Mama Didi's Harlem brownstone. Sadie has stories to tell and poems to write, and Norman has given her a voice in 13 accessible, narrative selections. Blending familial love and the optimism of youth, they convey Sadie's irrepressible personality. She explains that she can't sit still because her feet are laughing; relates how she and her younger sister Julie store their chuckles in a Giggle Jar, ready to dispense on a bad day; and describes herself: I'm a hip-hop song that makes you wiggle./I'm a late-night sneaky giggle./I'm a cornrow braid./I'm a cool glass of sweet lemonade. Although Sadie's parents have separated, they remain good friends and continue to care for one another in healthy, nurturing ways, defying the stereotype of the broken home. Sadie's story would pair nicely with Vera B. Williams's Amber Was Brave, Essie Was Smart (HarperCollins, 2001), for both books offer narrative clarity and sisters to believe in. Sadie's upbeat spirit is equally matched by Morrison's contemporary, graffiti-influenced illustrations that explore the child's urban neighborhood as well as the richness of her life. Done in a palette of bright greens, warm tangerines, and deep purples, the paintings feature sharp angles, elongated forms, and figures that are stretched and bowed. A sweet, hip, and joyous book. Teresa Pfeifer, Alfred Zanetti Montessori Magnet School, Springfield, MA
Copyright © Reed Business Information, a division of Reed Elsevier Inc. All rights reserved.             
K-Gr. 3. Love, joy, and the courage to be oneself spring from the 16 free-verse poems in Norman's first book (classified as fiction), which is told in the voice of a young Dominican American girl in a lively Harlem neighborhood. Sadie ignores adults who tell her that a good girl is seen and not heard. Then, with a wry twist, Sadie tells her young sister, Julie, to be quiet, and Julie answers back, "Asking questions makes me smart." Readers find out that Grandma is in heaven (there better be lots of stores there with fancy clothes for her); Mami and Pop are not together anymore, but they are good friends; and Pop comes over on weekends. Fun for reading aloud, the short, fast-moving lines include some rhyme and lots of dancing rhythm, and Morrison's double-page spreads full of swirling curves and angles, express quiet daydreaming moments as well as rollicking action. Hazel Rochman
Copyright © American Library Association. All rights reserved
Frequently ask questions
Shipping within 15 days to US Addresses only
All sales are final, no returns accepted.