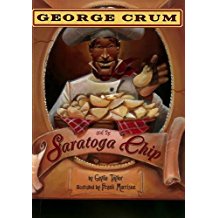 GEORGE CRUM
Frank Morrison Studio
Regular price $15.00 Sale
From School Library Journal
Grade 1-5 This lively story of the inventor of the potato chip begins with Crum's 1830s childhood in the Adirondacks, where his feisty streak gave him resilience in the face of prejudice against his Native American/African-American heritage. He combined a passion for cooking with a perfectionist bent and was hired as a chef at Moon's Lake House in Saratoga Springs, where he created popular wild game and fish dishes. His encounters with fussy and demanding patrons led to the innovative idea of thinly sliced, deep-fried potatoes as the ultimate French fry, and his fame spread rapidly. He eventually opened his own restaurant, Crum's Place, where everyone was treated equally, regardless of race or wealth. Taylor notes that the story is based on the more substantiated existing facts about a man whose life is largely undocumented. She writes clearly and compassionately, and treats topics of culinary history and race relations in an inviting manner. Crum is multidimensional in depiction, and readers can practically taste his crisp, freshly prepared chips. Morrison's richly colored acrylic illustrations have a comical look; the elongated figures shown from unusual angles create stylized exaggeration and burst with life. This book contains sufficient detail to interest older students, and its appealing format will assure its popularity as a read-aloud for the primary grades. Joyce Adams Burner, Hillcrest Library, Prairie Village, KS
Copyright © Reed Business Information, a division of Reed Elsevier Inc. All rights reserved. --This text refers to an out of print or unavailable edition of this title.
Frequently ask questions
Shipping within 15 days to US Addresses only
All sales are final, no returns accepted.